Major League Baseball op ESPN America
MLB staat in juli in het teken van het All Star Weekend, met de All-Star Game en de Home Run Derby
Major League Baseball (MLB) staat ook in juli centraal op ESPN America met fantastische reguliere seizoenswedstrijden en met een van de meest spraakmakende evenementen, All Star Weekend. Tijdens het weekend kunnen de fans genieten van de Home Run Derby en de All-Star Game. Al de grote namen nemen dit weekend het veld.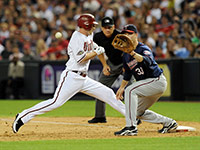 Vorig jaar wist de National League voor het eerst sinds 1996 de wedstrijdklassieker weer eens naar zich toe te trekken met een 3-1 overwinning. En de Home Run Derby zelf werd gewonnen door Big Papi himself, Boston Red Sox designated hitter David Ortiz. 32 keer mist hij de bal het stadion uit te meppen.
Ook het reguliere seizoen staat voor en na dit weekend niet stil. De Red Sox – deze maand in actie tegen de gepeperde divisierivaal Tampa Bay Rays op 18 juli – werden voorafgaand aan het seizoen nog kampioenschapskansen toegedicht, maar hun naaste rivalen – zoals New York Yankees, Cleveland Indians and Texas Rangers – laten zich niet onberoerd.
De race om de National League titel wordt aangevoerd door het pitcher's paradijs van de Philadelphia Phillies, die een rotatie van Cliff Lee, Roy Halladay and Cole Hamels de heuvel op kunnen sturen. Zoals verleden jaar al het geval was, geeft verdedigend kampioen San Francisco Giants goed gas terug en behoort het team opnieuw tot de kanshebbers. Tot die groep mogen ook de Cincinnati Reds, St. Louis Cardinals, Colorado Rockies en Los Angeles Dodgers zich scharen.
ESPN AMERICA laat circa 15 wedstrijden per week zien, zowel LIVE als met een korte delay. In juli is er uitgebreid aandacht voor het All Star Weekend met de Home Run Derby, de Celebrity Softball Game en het vlaggeschip, de 2011 MLB All Star Game. Check www.espnamerica.com voor aanvangstijden.
---
---