Six dutchmen to go to Admirals training camp
Sprinter Dwain Chamber also to try-out for the Admirals
A total of six Dutch American football players will fight for a spot on the new Admirals roster next month. Coach John Leijten of the American football organization finds the six ripe enough for the training camp of the club, which will be held in Florida in March.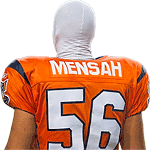 Under the six delegates three young hopefuls who already played in the orange jersey. Defensive player Akwasi Mensah seems to be the most obvious choice for head coach Bart Andrews. Andrews never hid his admiration for Mensah the previous season and labeled him as a big talent.
The other two Admirals players are cornerback Amilcar Grot (Admirals 2005) and linebacker Shurendy Concetion, who played with Frankfurt Galaxy and won the World Bowl at the cost of the Amsterdam team. They know like no other, that past results hold no guarantee for the future. Last year there was no room for the two in the Dutch formation. This year they must compete with three other Dutch entrants, among which runningback Stef Hupsel and receiver Claudio Bartolozzi (both from the Amsterdam Crusaders).
The last delegate is Dutch offensive lineman Pascal Matla. Matla was listed on the roster of NFL playoff contender the New Orleans Saints. He has been the first Dutchman since Harald Hasselbach (1999), who got a taste of a spot in the American National Football League. However, an injury cut his season short.
Dwain Chambers also to attend training camp
Former track sprinter Dwain Chambers also has a chance to make the Admirals roster. The 100 meter sprint specialist got into trouble a number of years ago because of steroid abuse but now has his mind set on a American Football carrier.
There is a good chance that the former medal winner will get a spot on the Admirals roster next season. Head coach Bart Andrews of the Dutch team is very charmed of his qualities.
The Admirals selection will take a clearer form between the 22nd and 24th of February. In that period the group will be completed during the three selection processes. A little less then 70 athletes are expected in Florida. The will compete for one of the 49 available spots on the roster of the strongest team in Europe of the last two seasons.
---
---