Topscore Finals 2010, Flag Football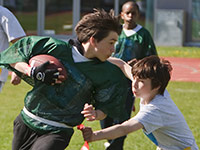 Vandaag zijn we de hele dag in het Olympisch Stadion aanwezig geweest om de finales van het de school flag football competitie vast te leggen. Dit heeft een hoop beeldmateriaal opgeleverd wat we inmiddels allemaal verwerkt hebben en o.a. te zien is op de site van Topscore.
We hebben de foto's natuurlijk ook zelf beschikbaar en zie je jezelf op een mooie foto staan dan kan je die ook direct vanuit de gallerij bestellen tot wel 60x90cm groot.
Bekijk en bestel de foto's in de gallerij.

In het dagelijks leven web developer en naast de vele sporten die ik zelf beoefen probeer ik nog wat, voornamelijk, Amerikaanse sporten op de gevoelige plaat vast te leggen. Baseball en Football zijn de twee sporten die ik het meest volg. Zo nu en dan probeer ik ook een Basketball of Hockey wedstrijd mee te pakken.
Mocht je een leuk evenement hebben en een fotograaf zoeken dan kan er altijd even contact worden opgenomen met me om te kijken of ik beschikbaar ben.
Website: xiphias.net
back to top