Topscore Finals 2011, Flag Football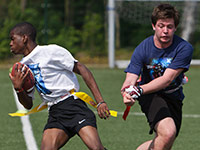 Vandaag werden in Amsterdam tijdens TopScore Finales 2011 gestreden om het kampioenschap van Amsterdam in verschillende diciplines. Op de velden van ASV Arsenal werd het kampioenschap Junior Varsity en Varsity flag football gehouden. Het beste team van de stad mag Amsterdam vertegenwoordigen tijdens de Nederlandse school kampioenschappen.
Van de ongeveer 800 foto's die ik heb gemaakt zijn ongeveer 200 beste uitgezocht en bewerkt. De foto's zijn ook na te bestellen op verschillende foto formaten, canvas maar ook op fun artikelen als mousepads en mokken. Het zijn voornamelijk Varsity wedstrijden, een collega versloeg de wedstrijden van JV op het andere veld.
Bekijk en bestel de foto's in de gallerij.

In het dagelijks leven web developer en naast de vele sporten die ik zelf beoefen probeer ik nog wat, voornamelijk, Amerikaanse sporten op de gevoelige plaat vast te leggen. Baseball en Football zijn de twee sporten die ik het meest volg. Zo nu en dan probeer ik ook een Basketball of Hockey wedstrijd mee te pakken.
Mocht je een leuk evenement hebben en een fotograaf zoeken dan kan er altijd even contact worden opgenomen met me om te kijken of ik beschikbaar ben.
Website: xiphias.net
back to top