Major League Lacrosse op ESPN AMERICA
The MLL season draws to a close with Championship Weekend airing on ESPN America
August wraps ESPN America's season coverage of Major League Lacrosse (MLL), the premier professional outdoor lacrosse league in the United States, with coverage of the highly-anticipated Championship Weekend.
Called by many 'the fastest game on two feet,' lacrosse has put a modern spin on an ancient sport, delivering fast-paced, high-scoring games that make it enormously popular with fans of all ages.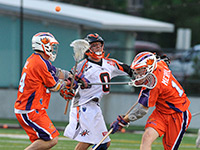 Last season's Championship Weekend saw the Chesapeake Bayhawks win their third MLL championship with an upset victory over the Long Island Lizards. Neither was expected to go so far, as both the Boston Cannons and Denver Outlaws had notched more successful seasons. But MLL is always unpredictable, with the best players in the U.S. – many coming from top academic institutions, such as Cornell and Johns Hopkins, known for their strong lacrosse programs – showing why this sport is endlessly entertaining.
The MLL season runs May to August, with ESPN America featuring up to three games per month, closing this month with Championship Weekend and coverage of the Semifinal Games and Championship Game being played the weekend of August 28 in Annapolis, Maryland. Check www.espnamerica.com for starting times in your region.
---
---